On 5 September, the Caravan team worked in Mingechevir. The focus of the second day of the Caravan was on the essence of citizenship education, the development of projects in this area, as well as teaching resources and materials for the development of citizenship education in school and beyond. All activities in this city took place in the premises of the local Media Centre.
Discussions on understanding citizenship education were framed through a pantomime theatre organised by Vitaly Nikanovich.
In this session, the young people also managed to convey a social message with pontonyme theater.
The messages that the 3 teams wanted to convey to us were: "Gender Equality", "Segregation due to improper distribution of resources among people," and "Indifference and disrespect among people."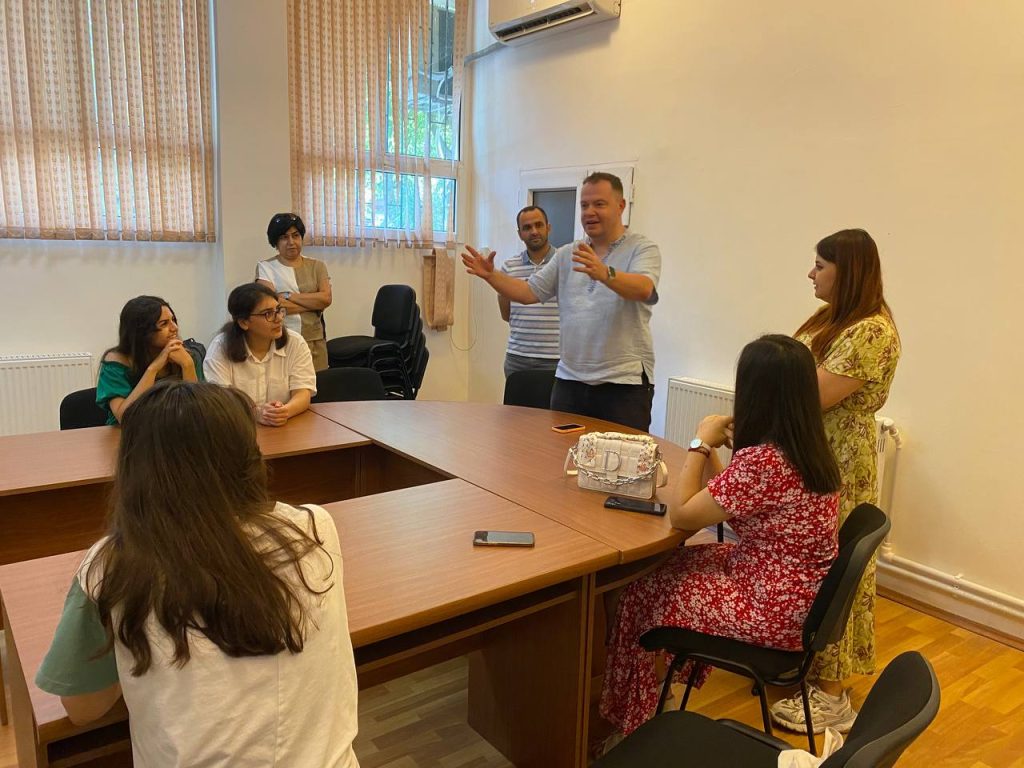 Thanks to this form, the training participants were able not only to grasp the meaning of the concept of " citizenship education", but also to discuss the problems of society in a creative way.
Nino Gvaramadze's session was devoted to how to develop citizenship education projects.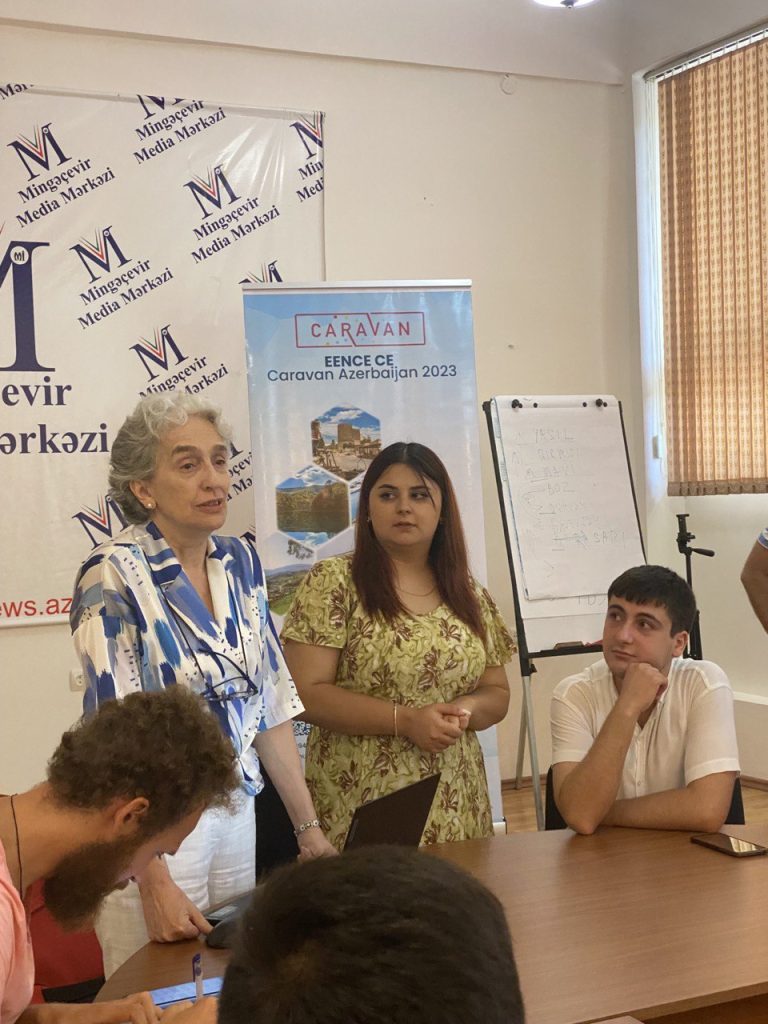 An expert from Georgia gave a detailed presentation on the main stages of project preparation, how their objectives are formulated and where to find resources.
The participants were then given the opportunity to present their project ideas on the lack of sufficient resources for youth development, animal rights, environmental cleanliness, and gender inequality.
For example, the group that chose the issue of lack of resources for youth development noted that most of the opportunities created in Azerbaijan are in the capital city of the country and this weakens the development of the regions.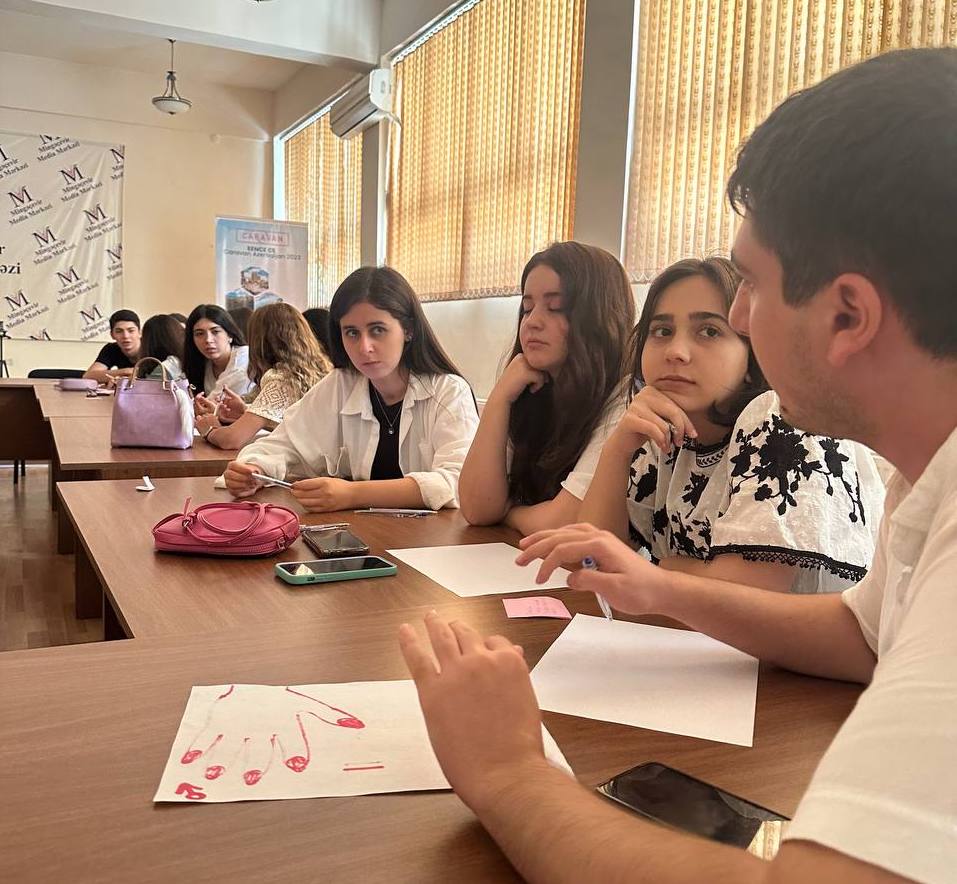 As a way out of this situation, the participants noted the importance of creating equal conditions for young people regardless of where they live, as well as holding educational events for regional development.
The final event of the Caravan in Mingechevir was the seminar "Educational resources and materials for the development of citizenship education at school and locally", which was conducted by Kateryna Zeziulina.
She began the workshop by asking the participants what the goal of citizenship education is for them.
Young people noted that it is important to learn and prepare oneself for life in society. Among the competences important for an active citizen, they named responsibility, initiative, ability to live together, decision-making, respect, tolerance and national identity.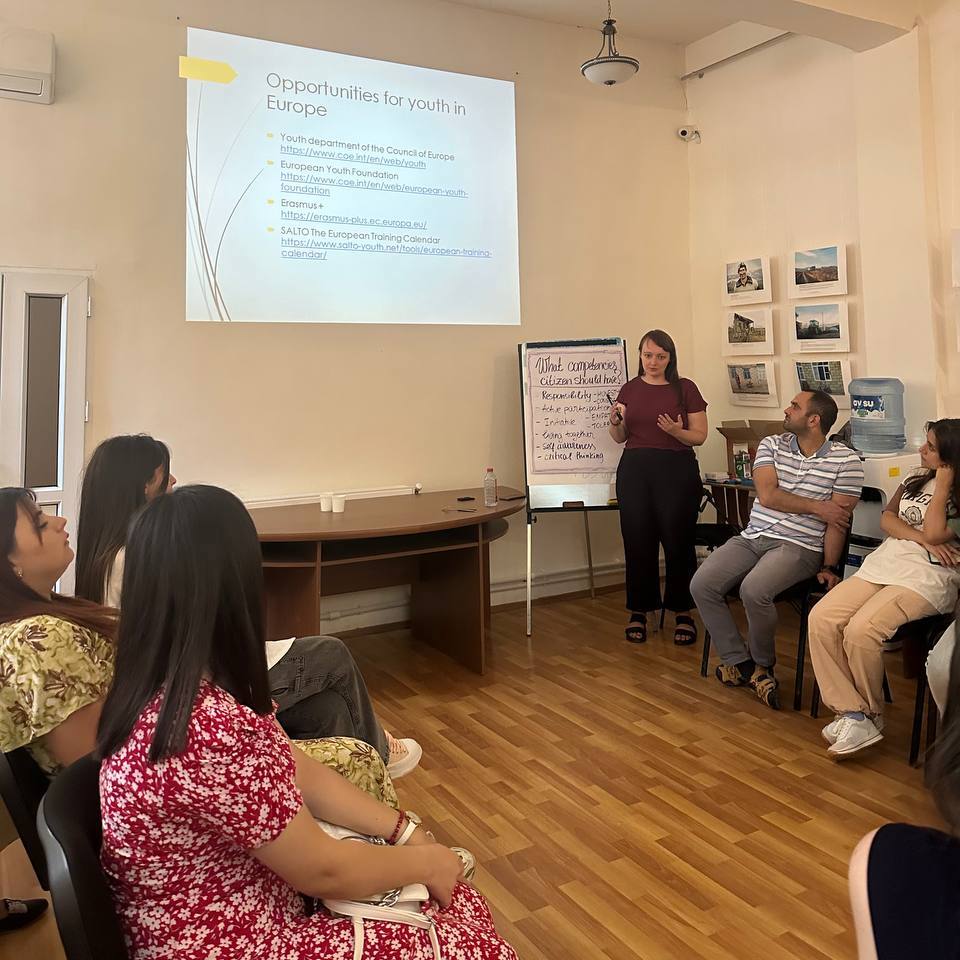 Catherine's interactive exercises allowed participants to gain new experiences and practise some competences.
At the end of the seminar, Kateryna presented an overview of Council of Europe resources and materials that can help participants to further deepen their knowledge on this topic.
---
The Caravan is organized by a consortium of EENCE experts and organizations in the framework of the project "EENCE Citizenship Education Caravan", funded by the Federal Agency for Citizenship Education (Bundeszentrale für politische Bildung / bpb) with funds allocated by the German Federal Foreign Office, program "Enhancing cooperation with civil society in the Eastern Partnership countries and Russia".
Read also:
Caravan of Citizenship Education: next stop – Azerbaijan
The next stage of the EENCE Citizenship Education Caravan started in Baku