The final events of the Caravan in this country took place on 8 September in Goygol. Here, the Caravan team held four events for local residents and activists.
The first Session was the "Inclusion for Peace" session conducted by local expert Khalida Hamidova, Ph.D. She explained to the participants what the concept of inclusion is and why it is important for the society.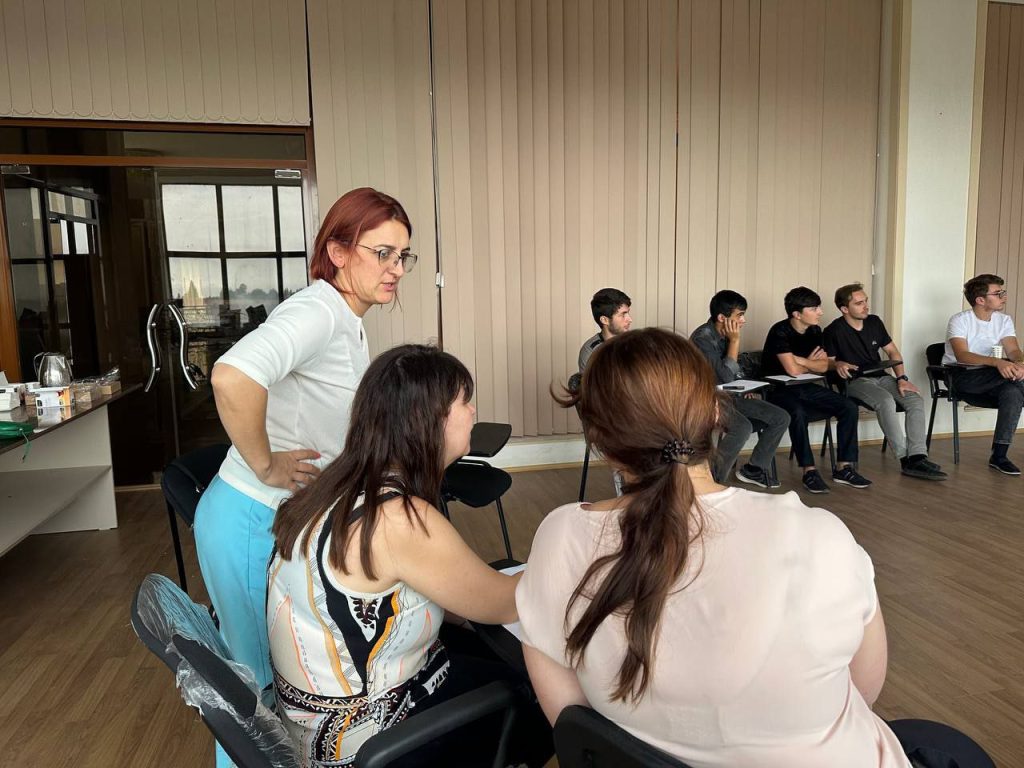 After clarifying the concept of peace, the relationship between peace and inclusivity was explained and a game was played accordingly.
Peace encompasses not only the absence of violence but also the presence of justice, cooperation and harmony

Khalida Hamidova
Second session – "Dialogue techniques and strategies to deal with conflict" was held by Kateryna Zeziulina.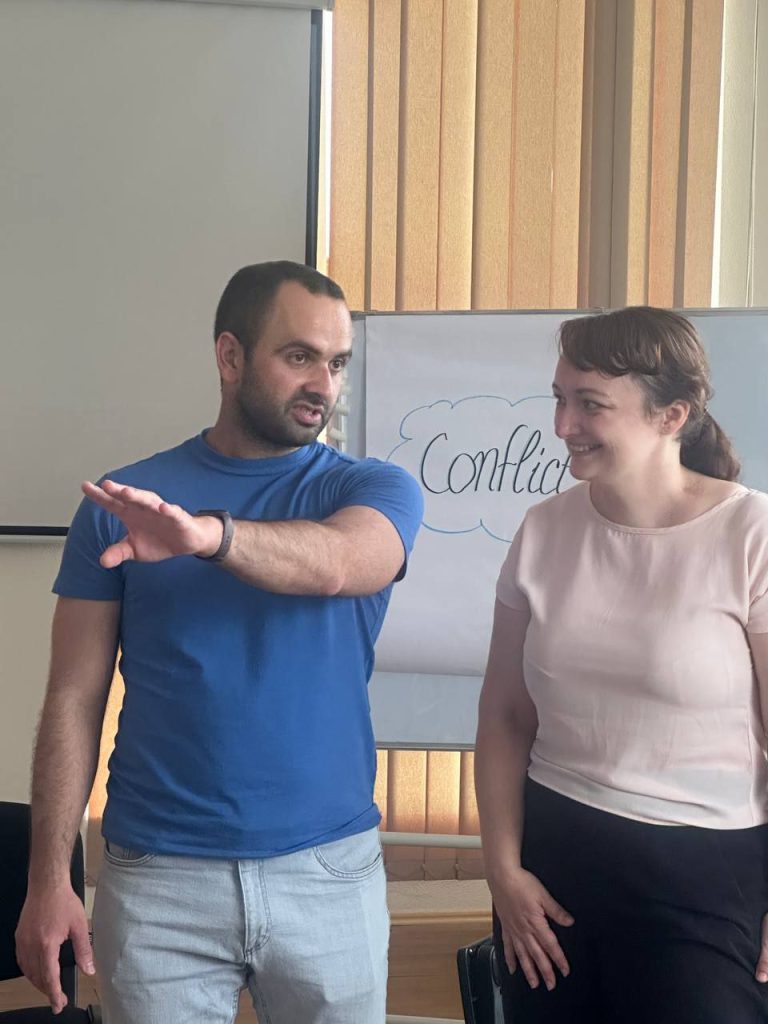 At the beginning of the session, the participants, who were divided into groups, were given tasks on certain cases by the trainer. Conflict situations were described in the cases.
To resolve the conflict, the groups held discussions and some ideas were put forward.
Later, Kateryna spoke about "Thomas-Killman's model of conflict".
One of the interesting trainings of the day was the "Conflict Management" session held by Zarif Bakirova.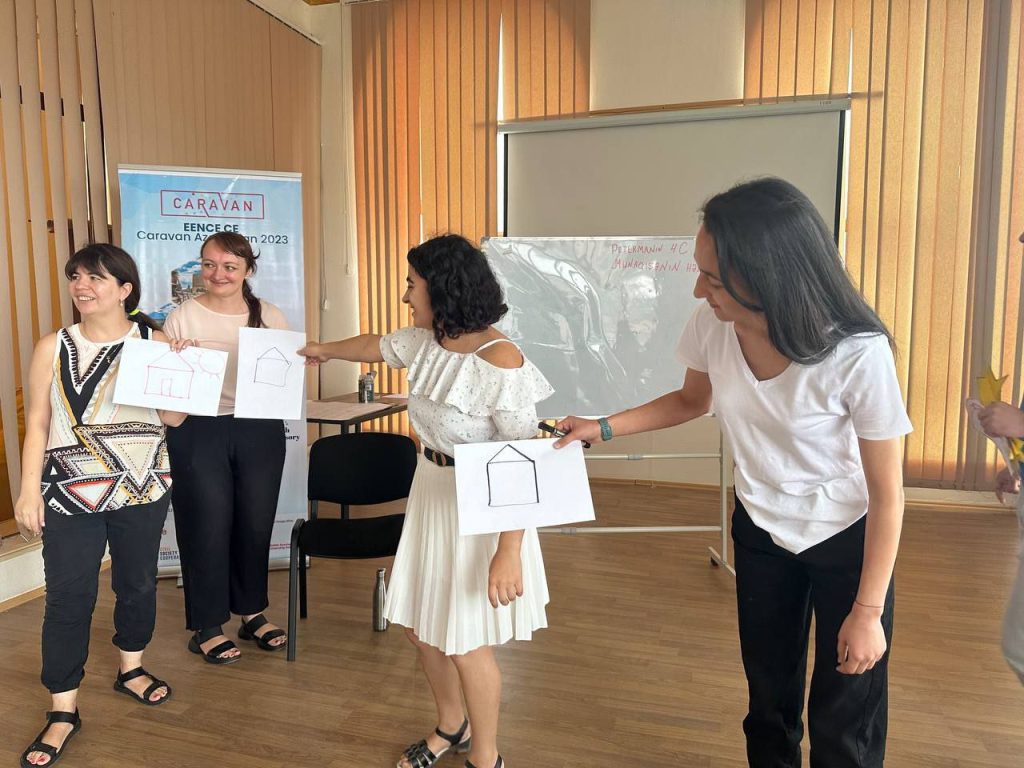 Ms. Zarif first organized an energizer among young people and showed an example of misunderstanding, which is one of the causes of conflict.
Then co-facilitator Namaz Karimov gave information about the types of conflict. At this time, he brought examples of inner, inter and complex conflicts and held a discussion with the participants.
He spole about the Determan 4C method, which shows the stages of conflict resolution, the expert shared the 4 stages of this method with the participants.
Participants gained both practical and theoretical knowledge about how to resolve conflict situations by holding discussions.
The last session of the day and the project "Voices of youth: Azerbaijan" was held by Vitaly Nikanovich.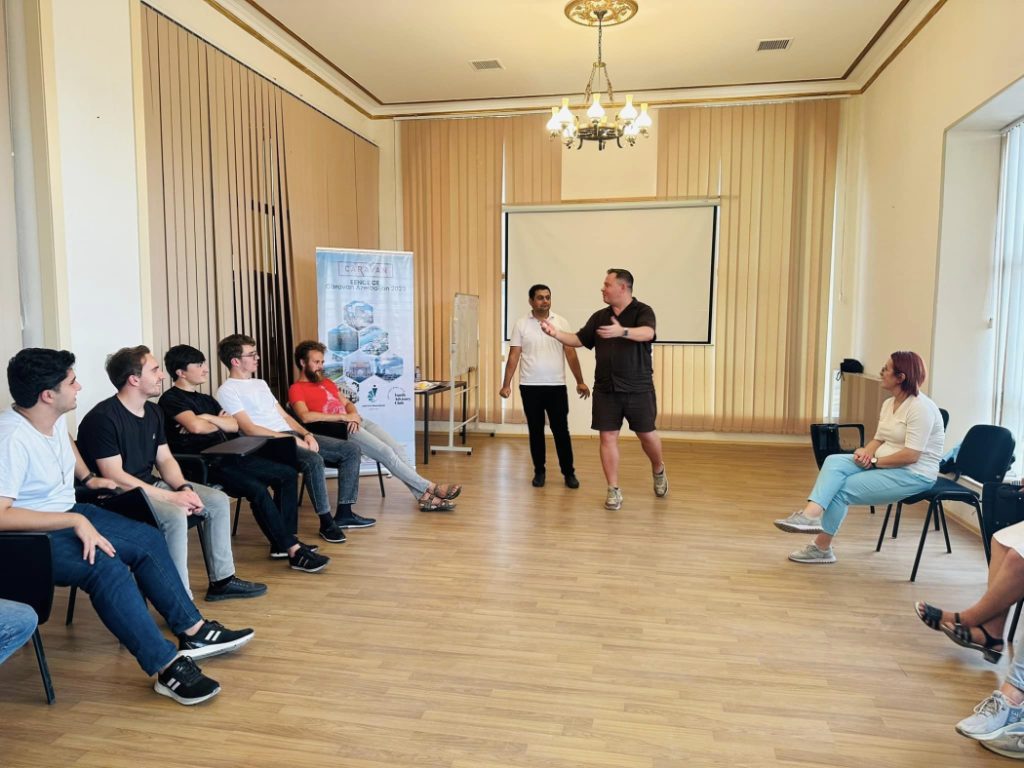 At the beginning of the session, he asked the participants to tell 3 facts about themselves and one of the facts was fake. Other participants had to clarify the fake information based on body language.
Later, an important masterclass was held with the participation of expert body language.
And he asked the participants to give a 30-second speech on "3 problems of Azerbaijani youth" using the knowledge they learned in this session.
The Citizenship Education Caravan worked in Azerbaijan from 4 to 8 September.
During this time, the caravan team travelled hundreds of kilometres and visited 5 cities.
More than 200 people took part in the events of the Caravan in Azerbaijan.
Now Ukraine is taking up the baton. Caravan events will be held here from 17 to 22 September.
---
The Caravan is organized by a consortium of EENCE experts and organizations in the framework of the project "EENCE Citizenship Education Caravan", funded by the Federal Agency for Citizenship Education (Bundeszentrale für politische Bildung / bpb) with funds allocated by the German Federal Foreign Office, program "Enhancing cooperation with civil society in the Eastern Partnership countries and Russia".
Read also:
Caravan of Citizenship Education: next stop – Azerbaijan
The next stage of the EENCE Citizenship Education Caravan started in Baku
EENCE Citizenship Education Caravan moves across Azerbaijan
EENCE Caravan of Citizenship Education in Azerbaijan. Day 3
EENCE CE Caravan in Azerbaijan. Day 4, Ganja